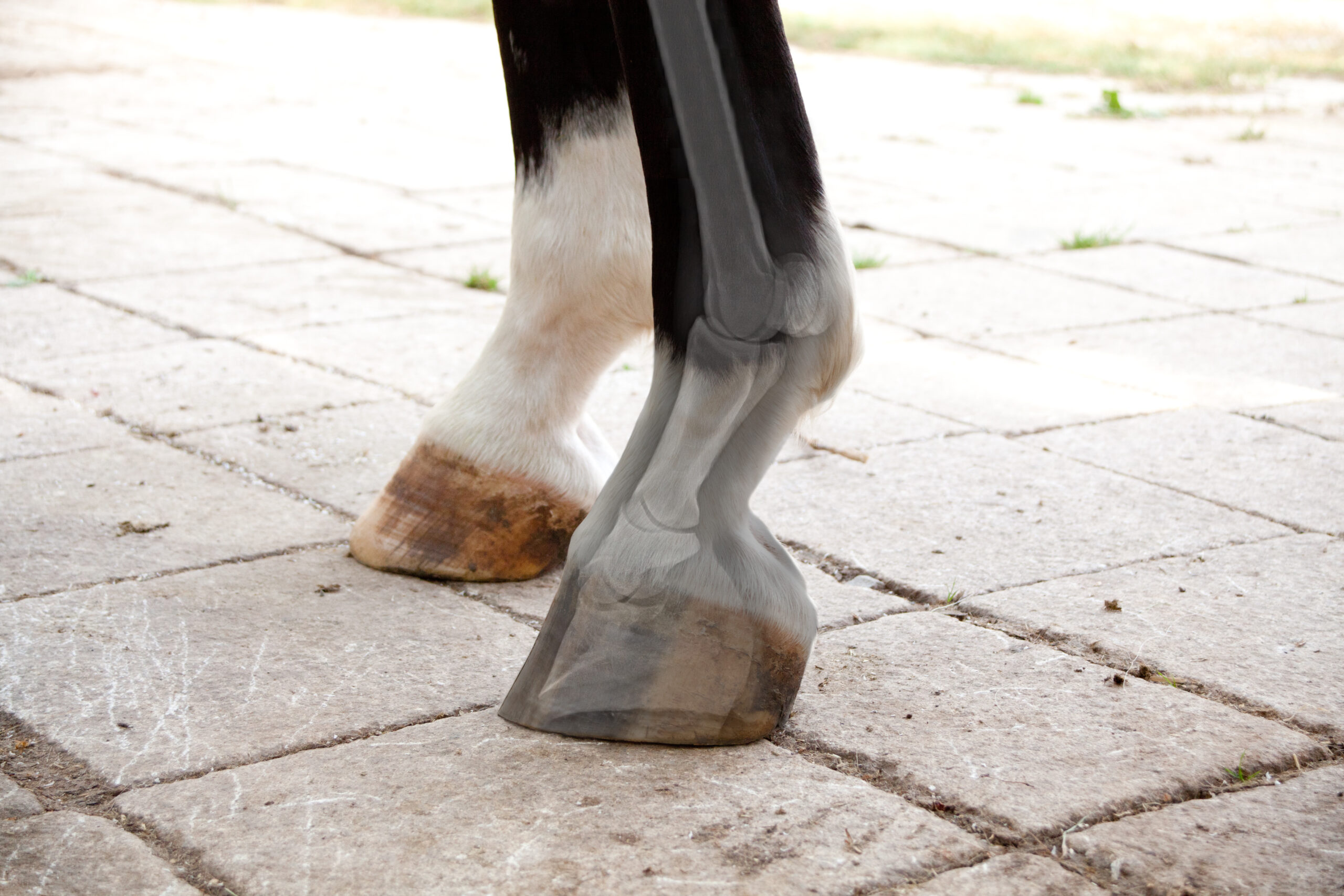 Hoof Anatomy in Understanding Lameness
Introduction:
Equine laminitis is a painful and potentially deadly condition that affects horses' hooves. Laminitis occurs when the sensitive laminae, which are the thin layers of tissue that connect the hoof wall to the coffin bone, become inflamed and begin to separate. This separation can cause the coffin bone to rotate or sink within the hoof, leading to severe pain and possible permanent damage.
Factors Involved in Causing Laminitis:
The disease can affect any horse, regardless of breed or age, and it can be caused by a variety of factors, including:
Diet: Horses that consume large amounts of carbohydrate-rich feed, such as grains or lush grass, are at a higher risk for this issue. These types of feed can cause an overgrowth of bacteria in the gut, releasing toxins that can damage the laminae.
Obesity: Overweight horses are more likely to develop laminitis, as the extra weight puts additional stress on the hooves.
Metabolic Disorders: Horses with metabolic disorders, such as Equine Metabolic Syndrome or Cushing's Disease, are at an increased risk for developing it.
Trauma: Trauma to the hoof, such as from a severe concussion or prolonged standing on hard surfaces, can also trigger it.
Signs and Symptoms:
The early signs of a problem can be subtle and difficult to detect, but they can include:
• Increased heat in the hooves
• Reluctance to move or walk
• Standing with the hind legs extended and the front legs tucked under the body
• Shifting weight from one foot to another
• A strong pulse in the digital artery located at the back of the fetlock joint
• If left untreated, it can lead to more severe symptoms, such as:
• Severe pain and discomfort
• The development of abscesses in the hoof
• Hoof wall separation or rotation of the coffin bone
• Chronic lameness or disability
• Euthanasia in severe cases
Treatment and Management:
Treatment for it typically involves a combination of management strategies to relieve pain, reduce inflammation, and support the healing of the affected hooves. These strategies may include:
Rest and Restriction: The affected horse may need to be kept in a stall or small pen to limit movement and reduce stress on the hooves. In some cases, a special shoe or hoof support may be needed to help relieve pressure on the affected area.
Pain Management: Medications like non-steroidal anti-inflammatory drugs (NSAIDs) may be prescribed to help manage pain and reduce inflammation.
Nutritional Management: The animal diet may need to be adjusted to reduce the intake of carbohydrates and other potentially harmful feed. A veterinarian may also recommend supplements or other dietary changes to support the horse's overall health and well-being.
Medical Treatment: Depending on the underlying cause of the disease, medical treatment may be necessary to manage any underlying conditions or disorders that may be contributing to the problem.
Farrier Care: A skilled farrier can help manage the horse's hooves and provide specialized shoeing or trimming to support healing.
Prevention to Laminitis:
Prevention of laminitis is essential, as it can be challenging to treat once it has developed. Some strategies for preventing laminitis include:
Proper Nutrition: Providing a balanced diet with appropriate levels of forage and limiting access to high-carbohydrate feed can help reduce the risk of laminitis.
Regular Exercise: Regular exercise can help maintain a healthy weight and improve overall health and fitness, reducing the risk of laminitis.
Monitoring: Regular monitoring of the horse's overall health and well-being can help identity early
References:
Mitchell, C. F., Fugler, L. A., & Eades, S. C. (2014). The management of equine acute laminitis. Veterinary Medicine: Research and Reports, 39-47.
Rendle, D. (2006). Equine laminitis 2. Management and prognosis in the chronic stage. In Practice, 28(9), 526-536.